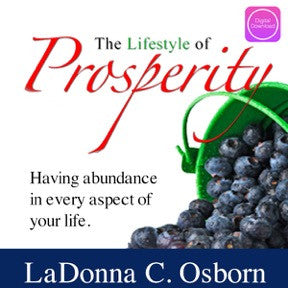 The Lifestyle of Prosperity - Digital Audio
by LaDonna C. Osborn
How do believers today unlock the door to a balanced attitude concerning prosperity? What are the biblical actions that we must exercise?
Dr. Osborn presents three keys that will open a vital understanding for the listener to receive God's blessing of provision.
Runtime: 2 hrs 41 min.
Disk 1 - 51:34
Disk 2 - 49:53
Disk 3 - 1:00:29
Also available as CD.
---
We Also Recommend
---
Liquid error (layout/theme line 387): Could not find asset snippets/spurit_uev-theme-snippet.liquid