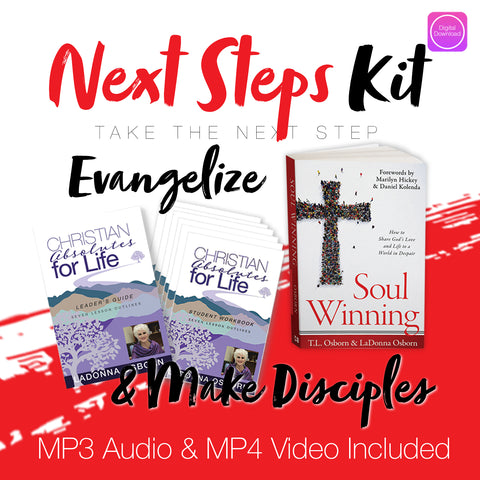 Next Steps Kit - Digital **50% OFF LIMITED TIME**
by T.L. Osborn & Dr. LaDonna Osborn

The NEXT STEPS Kit guides a Christian in the NEXT STEPS of sharing their faith with others and then equipping them to guide the new convert in their NEXT STEPS to follow Jesus. This is the resource that Christians have been desperately needing.

The Kit includes:

Soul Winning book - PDF
Christian Absolutes for LIFE Leader's Guide - PDF
Christian Absolutes for LIFE Student Workbook - PDF
7 Audio lessons - MP3
7 Video lessons - MP4
Video lessons can be downloaded or streamed online. After purchasing this kit, you will receive a confirmation email which contains a link for viewing and downloading. Please follow the instructions for access to the lessons.
Also Available in a Physical Format
---
We Also Recommend
---
Liquid error (layout/theme line 387): Could not find asset snippets/spurit_uev-theme-snippet.liquid