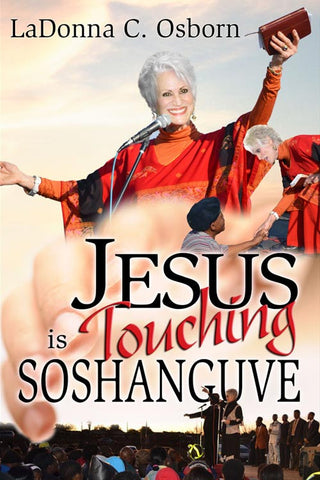 Jesus is Touching Soshanguve - Paperback
by LaDonna C. Osborn
The township of Soshanguve in South Africa was established as a new location for the non-white inhabitants that were forced to move there from the Pretoria area by the dominant white minority during the rule of Apartheid. Apartheid, a system of racial segregation, was abolished in South Africa in 1994, however today the vestiges of Apartheid continue to influence politics and the society even as the people struggle to recover from decades of dehumanizing racism.
Black pastors from Soshanguve invite Dr. LaDonna C. Osborn to come and bring a visitation of the Living Christ to these desperate people that the enemy holds in bondage. Many of the 1.5 million people of Soshanguve still cling to idol worship and animal sacrifice. Their pagan god, "Modimo" is unapproachable and disinterested in human affairs.
As you read, "JESUS IS TOUCHING SOSHANGUVE" you will feel Christ's love and compassion toward these bruised and forgotten people. You will also become a living witness to God's miracle power at work through the apostolic Gospel ministry of Dr. LaDonna C. Osborn.
Also Available Digital Book
---
We Also Recommend
---
Liquid error (layout/theme line 387): Could not find asset snippets/spurit_uev-theme-snippet.liquid