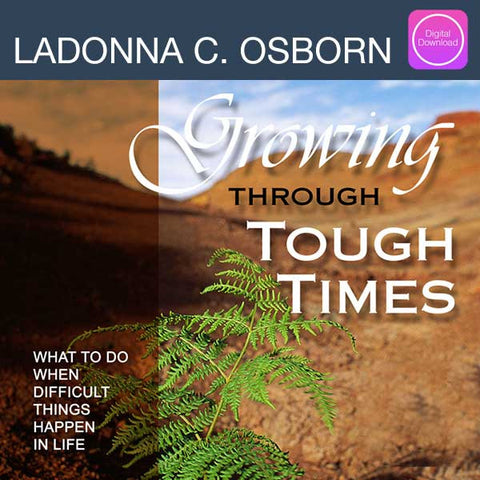 Growing Through Tough Times - Digital Audio
This digital file (MP3) can be downloaded to your computer and added to your favorite device.
by LaDonna C. Osborn
When you experience tough times, do you maintain spiritual and emotional control or do you fall apart? Do you have a positive faith that works or do you become confused and disorganized? This practical teaching, based on John 16:33 and Psalm 121, will show you how to respond to difficulty times in life. In this three part message, Dr. LaDonna Osborn teaches:

1. Six positive steps that produce growth
2. How to discipline your thoughts
3. How to recognize your emotional condition
4. How to deal with mistakes and worry
As you learn how to take control of your thoughts and emotions - then begin to replace error with truth - you will experience the spiritual growth that moves you toward maturity ... even during life's tough times!
Run time: 2 hrs. 35 min.
Also available as CD.
---
We Also Recommend
---
Liquid error (layout/theme line 387): Could not find asset snippets/spurit_uev-theme-snippet.liquid