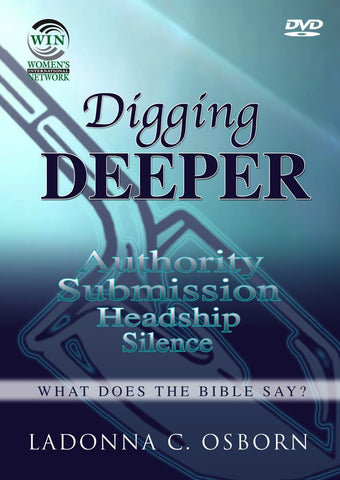 Digging Deeper - DVD (8)
by LaDonna C. Osborn

This course will help you to grasp what the Bible says about AUTHORITY, SUBMISSION, HEADSHIP and SILENCE. These are topics that deserve biblical scrutiny because of their impact on women in ministry.
Dr. LaDonna C. Osborn's teaching will open your eyes to the many factors that influence proper interpretation of specific Scriptures that have often been used to restrict the participation of women in Christian Ministry.
Enjoy the freedom that comes from the knowledge of God's Word concerning women and their roles in the community, in the church and in the home.
Run time: 8 hrs.
Also available as: CD and Digital Audio. 
---
We Also Recommend
---
Liquid error (layout/theme line 387): Could not find asset snippets/spurit_uev-theme-snippet.liquid