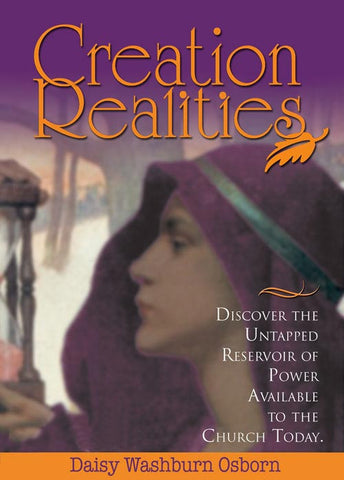 Creation Realities Course - DVD (12)
by Daisy Washburn Osborn

Mature and serious Bible Study students will be challenged and excited by Dr. Daisy's insight into God's original One Flesh Covenant Relationship. This prophetic course was recorded during a season when hyper-headship teaching was crippling many Christian men and women and giving rise to spiritual, physical and emotional abuse. Dr. Daisy outlines the Biblical blueprint for Male/Female Relationships; Identifies ways that the Bible has been used to enslave and limit God's creation; re-thinks who was to blame for the fall of humankind and teaches what to do when God trusts you with revelation.
Manual is a supplement to complement the entire course in the study or classroom environment.
Also available as CD.
---
We Also Recommend
---
Liquid error (layout/theme line 387): Could not find asset snippets/spurit_uev-theme-snippet.liquid