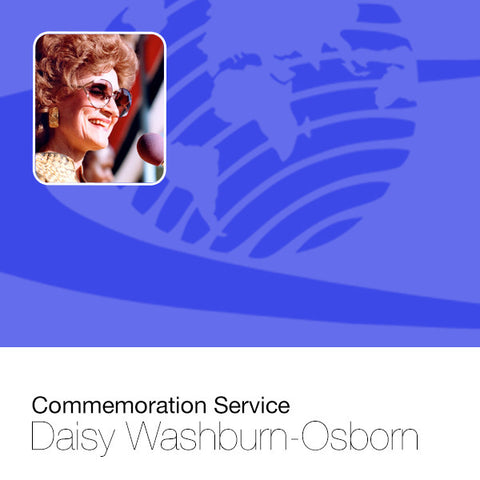 Daisy Washburn Osborn Commemoration Service - CD (2)
by Dr. LaDonna C. Osborn
Sept 23rd 1924 - May 27th 1995
Commemoration Service Conducted by Dr. Daisy's daughter, Pastor LaDonna C. Osborn, at International Gospel Center, Tulsa, Oklahoma.
Dignitaries & Church leaders from around the world honor and pay tribute to World Evangelist and Global Ambassador of Christ, Dr. Daisy Washburn-Osborn. Pentecostal Historian, Susan Hyatt, delivers a detailed reflection of Dr. Daisy's life in ministry-partnership with her husband of 53 years, Dr. T.L. Osborn, as she proclaims, "Daisy was one of God's very special women, A Life Well Lived."
You will be moved as Dr. Daisy's daughter, LaDonna C. Osborn, delivers an emotional closing tribute to her mother, and commits her mother to be Forever With Her Lord.
1 Thessalonians 4:13-18
---
We Also Recommend
---
Liquid error (layout/theme line 387): Could not find asset snippets/spurit_uev-theme-snippet.liquid