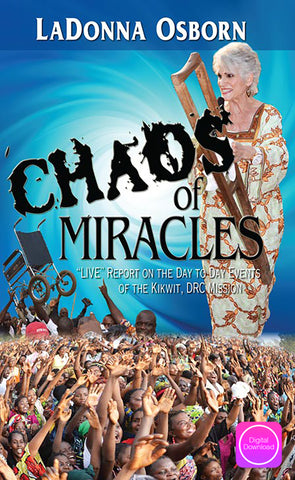 Chaos of Miracles - Digital Book
This digital file (PDF) can be downloaded and added to your favorite device.
by LaDonna C. Osborn
'Live report on the day to day events of the Kikwit, DRC Mission'
I thank God for sending us to Kikwit, even though the circumstances here are not easy..."Right now I am sitting in a dark room, documenting our mission on my iPhone so that I may share these details with you."
This journal report, Chaos of Miracles, will transport you directly to Kikwit, Democratic Republic of the Congo (DRC), to experience this Gospel mission with us. When you read the four Gospels in the Bible, you have a sense that you are present with Jesus, listening to every conversation and witnessing His amazing miracles. You feel His compassion as He ministers to those who are outcasts and hopelessly infirmed.
In the same way, as you read this book, you will journey with us to the DRC, and travel with us to Kikwit. You will witness this great visitation of Jesus Christ among these forgotten people.
You will stand on the platform with me on the first day of the public evangelism Festival of Faith and Miracles as a supernatural wind begins to blow. You will feel the eruption of miracles that creates an atmosphere of utter chaos as the people experience the healing presence of the Resurrected Christ.
Jesus said, The Harvest is plentiful..., Mt 9:37 and indeed it is here, as we reap a great soul harvest in Kikwit.
Come with me and witness this Chaos Of Miracles.
Also available as Paperback.
---
We Also Recommend
---
Liquid error (layout/theme line 387): Could not find asset snippets/spurit_uev-theme-snippet.liquid