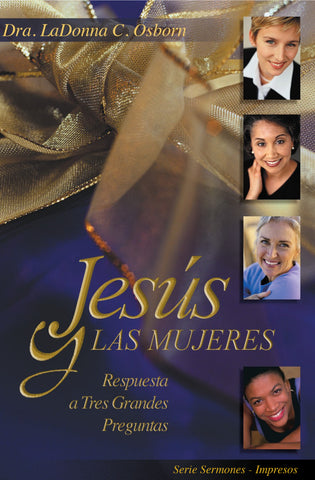 Jesus & Women - Spanish
by LaDonna C. Osborn
Throughout the world today, women are faced with issues concerning marriage, motherhood, employment, business ownership, civic service, church involvement and much more.
There are many voices, both in and out of the Church, that are all too eager to define a woman's proper place. But the only source for valid direction is the person of Jesus Christ, who always offers hope, dignity and esteem to all who come to Him.
In this Sermon-In-Print Series book, Dr. LaDonna Osborn identifies three important questions that arise from encounters Jesus had with women as recorded in the Bible. These three questions are still being asked today in both the Church and secular society:
What are we going to do with the women?
Why bother with the women?
Why talk to the women?
Jesus' response in each encounter gives us clear-cut answers to these questions. Don't struggle with religious tradition or man-made limitations one more day. Discover your own unique identity and begin to fulfill the purpose for which God created you.
JW/S-B
Also available as CD.
---
We Also Recommend
---
Liquid error (layout/theme line 387): Could not find asset snippets/spurit_uev-theme-snippet.liquid