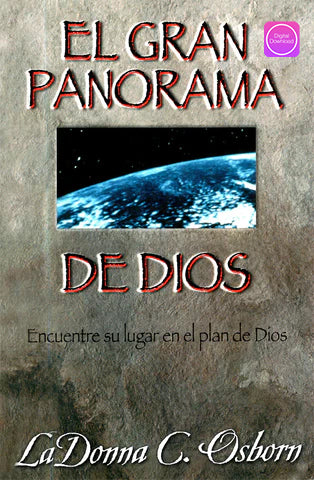 God's Big Picture - Digital Book | Spanish
This digital file (PDF) can be downloaded and added to your favorite device.
by LaDonna C. Osborn
Although the Bible is a multi-faceted book, written over a period of 2000 years by more than 40 different authors, it contains a remarkably simple message of God's redemption plan for people commonly known as the Gospel.

Once you understand the overarching message of the Gospel, you can then discover your own divine purpose as you learn how to live as the unique person God created you to be.

In God's Big Picture, Dr. LaDonna Osborn paints a verbal portrait of redemption, a panoramic view of the progressive story of God's plan for humanity, comprised of four biblical events:
Creation - God created us
Deception - Satan tried to destroy us
Substitution - Jesus redeemed us
Restoration - we are restored to God.

Popular, trendy teachings come and go. Only the gospel of Christ's redemption produces enduring change in human lives. Once you understand these four redemptive truths, you will develop the confident and consistent faith in God that produces balanced and successful Christian living as you fulfill His purpose for your life.
Also available as: Paperback, Digital Audio, CD and DVD. 
---
We Also Recommend
---
Liquid error (layout/theme line 387): Could not find asset snippets/spurit_uev-theme-snippet.liquid