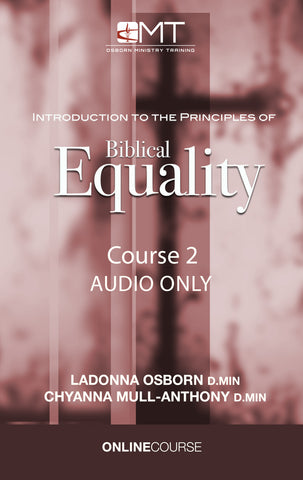 Introduction to the Principles of Biblical Equality - Course 2 | OMT Digital Course On-Demand
Osborn Ministry Training
Osborn Ministry Training (OMT) expands our ability to share training resources with Gospel laborers globally.

Introduction to the Principles of Biblical Equality is a continuation of Course 1. It is a study designed to illuminate to the student the Scriptural principle of the fundamental equality of Christian men and women. Traditional views of domestic and church roles will be scrutinized in light of the believer's redemptive status.  Topics include: How men and women can function equally in church leadership; the role of culture in shaping Christian tradition and practice; and how to transition from a traditional church structure to an egalitarian style of church ministry. This course is audio only.
Introduction to the Principles of Biblical Equality - Course 2
Bishop Dr. LaDonna Osborn, Pastor Dr. Chyanna Mull-Anthony
11 Part Course
Important: OMT courses are viewed online. No download is necessary. After purchasing this course, the student will receive a confirmation of payment email and an additional email containing a link to view this course. This link provides unlimited access to course for ONE YEAR. This is an amazing course. You will enjoy this time of study with Dr. LaDonna Osborn and Dr. Chyanna Mull-Anthony.
---
We Also Recommend
---
Liquid error (layout/theme line 387): Could not find asset snippets/spurit_uev-theme-snippet.liquid