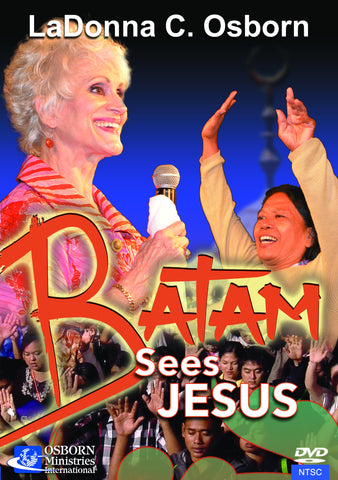 Batam Sees JESUS - DVD
by Ladonna C. Osborn
The people of Batam, Indonesia needed to hear the Good News of Jesus Christ. They needed to hear and witness Christ's love and healing power. The local pastors of Batam's many denominations pleaded for help, and Dr. LaDonna Osborn responded. Preparations began, faith commitments were made, four Osborn book titles were translated into Indonesian, printed and shipped to Batam and Dr. Osborn assembled her mission team.
Over 90% of the Indonesian people are Muslim. The Gospel of Jesus Christ, not religion, is the only solution for this great and needy nation.
As you watch this video, you will journey with us and witness first hand the great Soul-Harvest in Batam as the multitudes accept Jesus as their Savior for the first time. You will experience the excitement and wonder as miracles of healing occur as Batam Sees Jesus.
---
We Also Recommend
---
Liquid error (layout/theme line 387): Could not find asset snippets/spurit_uev-theme-snippet.liquid