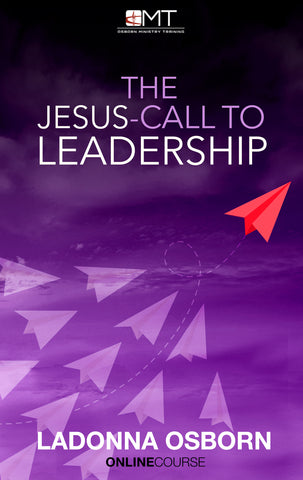 The Jesus-Call To Leadership | OMT Digital Course On-Demand
Osborn Ministry Training
Osborn Ministry Training (OMT) expands our ability to share training resources with Gospel laborers globally.

Ministers all over the world are eager to receive Osborn training to increase their spiritual understanding and ministry effectiveness. Gradually many specific courses and lessons will be available ONLINE through Osborn Ministry Training. There is no limit to the power of the Word of God. He will reach you and minister to you on your computer (or other device), in the exact same way that He would if you were sitting physically in the classroom or on the Crusade platform.

The Jesus-Call To Leadership
Dr. LaDonna Osborn, D.Min.
12 Hour Course
Jesus' call to His disciples is a call to leadership. His words imply that every believer is called to "leadership." The act of obedience in following Him develops within the Christian believer true leadership characteristics. Dr. Osborn will lead classroom lectures and discussions to explore the range of ministry leadership topics including: Models of leadership; strengths for leadership; actions of leadership; factors in leadership and challenges of leadership

Important: OMT courses are viewed online. No download is necessary. After purchasing this course, the student will receive a confirmation of payment email and an additional email containing a link to view this course. You will enjoy this time of study with Dr. LaDonna Osborn.
Student Comments:
" Inspiring!"
"Thought-provoking!"
"Great learning experience!"
"This is awesome!"
---
We Also Recommend
---
Liquid error (layout/theme line 387): Could not find asset snippets/spurit_uev-theme-snippet.liquid