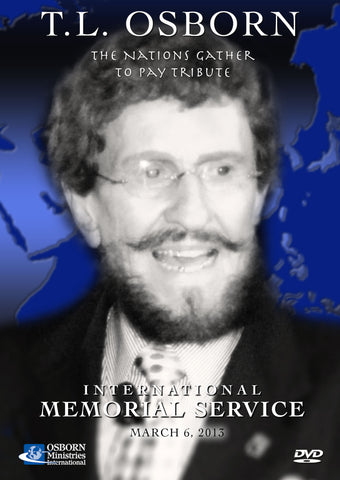 T.L. Osborn Int'l Memorial Service - DVD
"The Nations Gather to Pay Tribute"
Length: Approx. 3.5 hours
This 2 disc DVD set features the following speakers from the International Memorial Service held on the campus of Oral Roberts University:
Dr. Mark Rutland, President, Oral Roberts University
Dr. Chyanna Mull-Anthony, Pastor, International Gospel Center, Tulsa, Oklahoma
Revs. Tommy & Elisabeth O'Dell Frontier Evangelism, Tulsa, Oklahoma (Grandson & Granddaughter-In-Law)
Revs. Donald & Carina O'Dell World Harvest, Denver, Colorado (Grandson & Granddaughter-In-Law)
Rev. Malcolm Bull Director, Osborn Foundation, Ltd., England
Rt. Rev. Natasha Schedrivaya Village Gospel Harvest, Russia
Dr. R.R. Soares International Church of Gods Grace, Brazil
Rev. Robert Kayanja Robert Kayanja Ministries, Uganda
Dr. John T.L. Maasbach Johan Maasbach World Evangelism Ministry, Netherlands
Dr. David Shibley Global Advance, Dallas, Texas
Dodie Osteen Lakewood Church, Houston, Texas
Rev. Kenneth Copeland Kenneth Copeland Ministries, Fort Worth, Texas
Rt. Hon. M.E. (Margaret) Benson Idahosa Church of God Mission International, Nigeria
Dr. LaDonna C. Osborn President & CEO, Osborn Ministries International (Daughter)
"My much loved father, Dr. T.L. Osborn, the man known around the world as "The Father of the Gospel," entered his eternal rest on Thursday, February 14, 2013. He was in no pain and had no sickness. The Lord simply took away his breath. My father was wrapped in love, his family surrounding him as he stepped through the earthly veil into eternity. He is now in the presence of Jesus, whom he had served faithfully for 77 years, following his conversion at the age of 12.
We can only imagine the sweet reunion between him and his beloved Daisy, three of his children, a granddaughter, a great granddaughter and a celebrating host of believers who are among the redeemed because of my father's ministry, during more than 65 years, to every corner of the earth. He was in his 90th year, having passed his 89th birthday on December 23, 2012."
-- LaDonna C. Osborn
---
We Also Recommend
---
Liquid error (layout/theme line 387): Could not find asset snippets/spurit_uev-theme-snippet.liquid