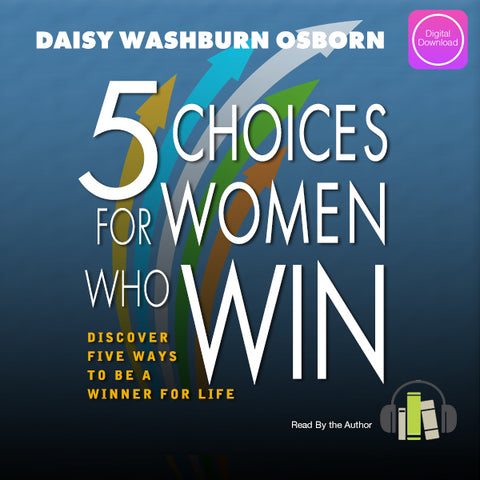 5 Choices For Women Who Win - Digital Audio
This digital file (MP3) can be downloaded to your computer and added to your favorite device.
by Dr. Daisy Washburn-Osborn
Dr. Daisy Washburn Osborn's accomplishments in world diplomacy and evangelism are unequalled among Christian women leaders. In this book, she shares the five formidable choices she made, and that any woman can make, to become a winner and experience satisfaction and achievement: individualize yourself, celebrate your personality, believe you can re-begin, identify Jesus in people and exterminate the excuse syndrome. A must for Christian women.
Also available as: CD, Digital Book and Paperback.  
This voice recording was created as an exact match to the first edition of the printed book. Later editions of the book may have been revised and/or enlarged. Therefore this audio book may be somewhat different than the current printed version.
---
We Also Recommend
---
Liquid error (layout/theme line 387): Could not find asset snippets/spurit_uev-theme-snippet.liquid